To be honest with you, I had my reservations about this book, so of course I saw the movie first, not without leaving behind the same reservations. The movie, oh dear lord, became one of my favorites. I cried so much the first time I saw it, that silly me thought it would be easy the second time. I couldn't be more wrong, I cried as much as the first time, and that was a lot!.
With the book happened something pretty similar. There were moments like when I was at school, or when I was on the bus, that I had to stop reading or I would cry like crazy, and you know how awful that can be, since I only wear mascara that can be easily removed with water. Messy face, raccoon face!.
Anyway, when a moment that was tempting my eyes to run like a river came, I stopped and waited for a calm moment at home. By the end of the book I cried so much that my heart ache, big time!
Here's what Goodreads says about the book: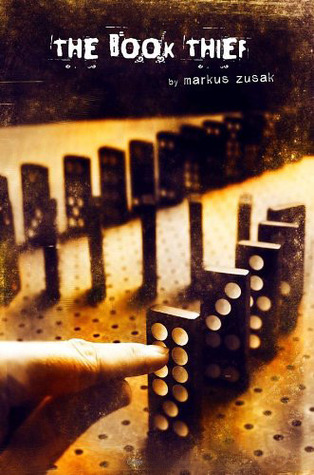 It is 1939. Nazi Germany. The country is holding its breath. Death has never been busier, and will become busier still.
Liesel Meminger is a foster girl living outside of Munich, who scratches out a meager existence for herself by stealing when she encounters something she can't resist–books. With the help of her accordion-playing foster father, she learns to read and shares her stolen books with her neighbors during bombing raids as well as with the Jewish man hidden in her basement.
The story of course is sad, since the time that was placed was one of the saddest in history, but there are so many beautiful things about this book that I don't know where to start.
First I have to say that even when Liesel suffered at the beginning with her little brother's death, and being left behind by her mother, the people who accepted her, her foster parents were totally amazing. Even when Rosa was a hard woman from the outside, she had a big heart, a huge one in fact, and I couldn't admire her more. And Hans, well, I just can say he's one of those characters that would be in my heart for the rest of my life, same as Rudy.
The book is a little bit different from the movie, but I'm glad that the movie captured the essence of the book. Still, the book is one of my dearest now. Here's one of my favorite parts of it:
And of course a couple of images from the movie, in case you didn't see it: